Rockridge Baseball is excited to announce the return of our Halloween themed fundraiser "You've Been Boo'd", during the month of October. Don't miss the chance to "Boo" your friends, family, and neighbors by sending a set of our traveling ghosts to haunt their yard along with a festive leave behind sign showing support for Rockridge Baseball. Use the link below to submit your donation online or send in the completed form with payment. Every donation goes directly toward baseball uniform items and field improvements. Rockridge Baseball would like to thank you in advance for your continued support. Go Rockets!!! Click the Link Below:
https://bit.ly/3CL9NDH
Online Payment Instructions Step 1: Scan the QR code and/or use the link to fill out the google form Step 2: After submitting the form, follow the the link on the next page to begin payment process Step 3: Click "Make a One-Time Payment" Step 4: Enter "Baseball" for name of fundraiser Step 5: Enter $ amount & Click "Add and Checkout" Step 6: Enter e-mail information Step 7: Enter Payment Method Step 8: Agree to terms and make payment

WARNING! Major photo dump ahead! Our AES students showed up this week full of spirit! Also, there is some important information about our Book Fair next week! Let's go Rockridge Rockets!
https://5il.co/1ir8i

Congratulations to the 2022 RHS Homecoming Royalty: Noah Jorgensen & Amelia Rursch!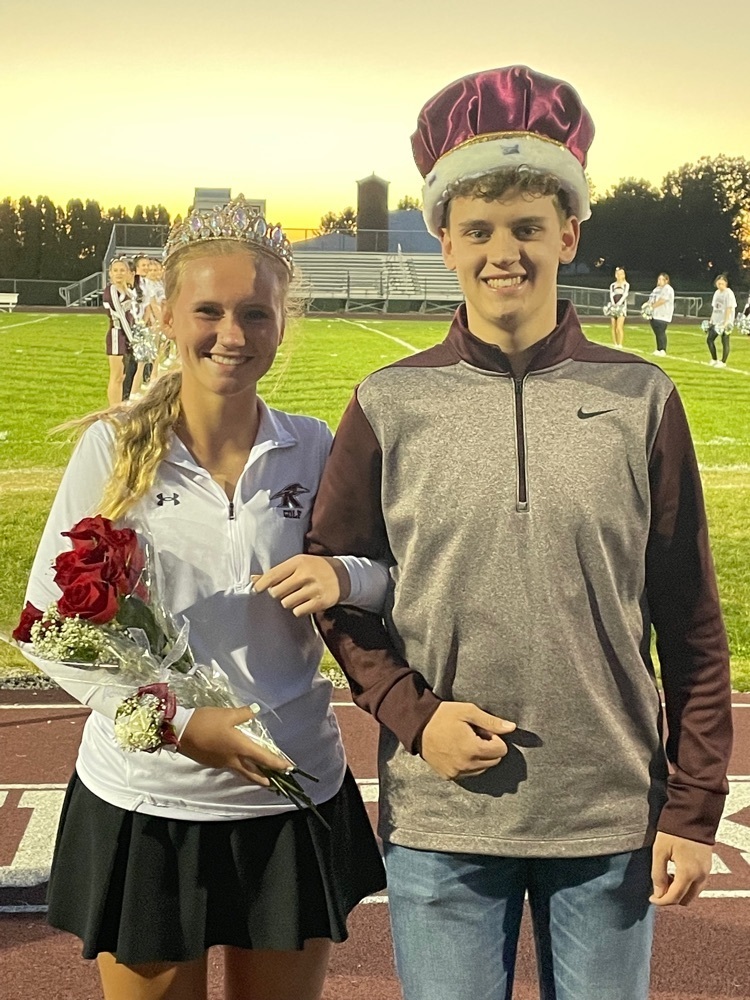 Homecoming Walking Taco Supper - Thu Sept 29 - 4:30 pm to the end of Pep Rally at the FB Field Concession Stand.
https://bit.ly/3xZ15il
We would like to formally welcome all to our Parent Night for Book Fair at AES! Please make sure you fill out the survey shared earlier if you would be interested in food!
https://forms.gle/9RRXxU8g6D3jgHD6A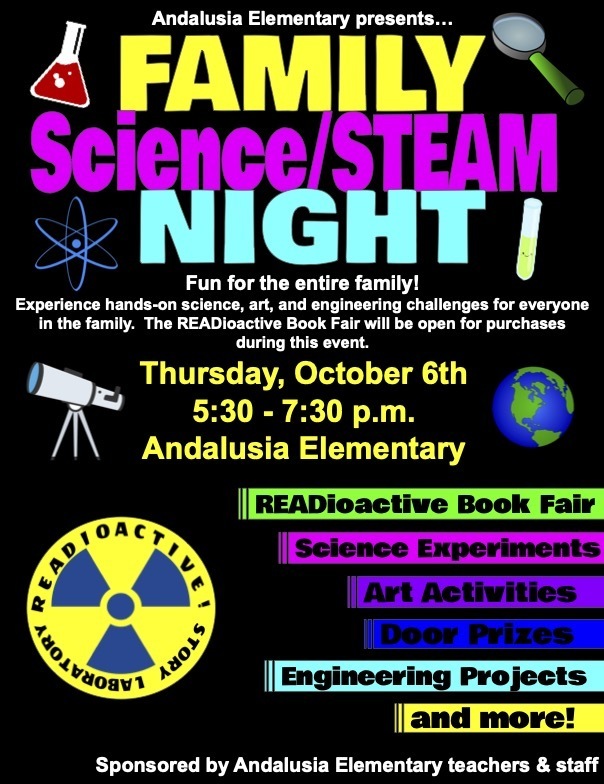 PTO Meeting tonight! Thanks to NHS for sponsoring childcare!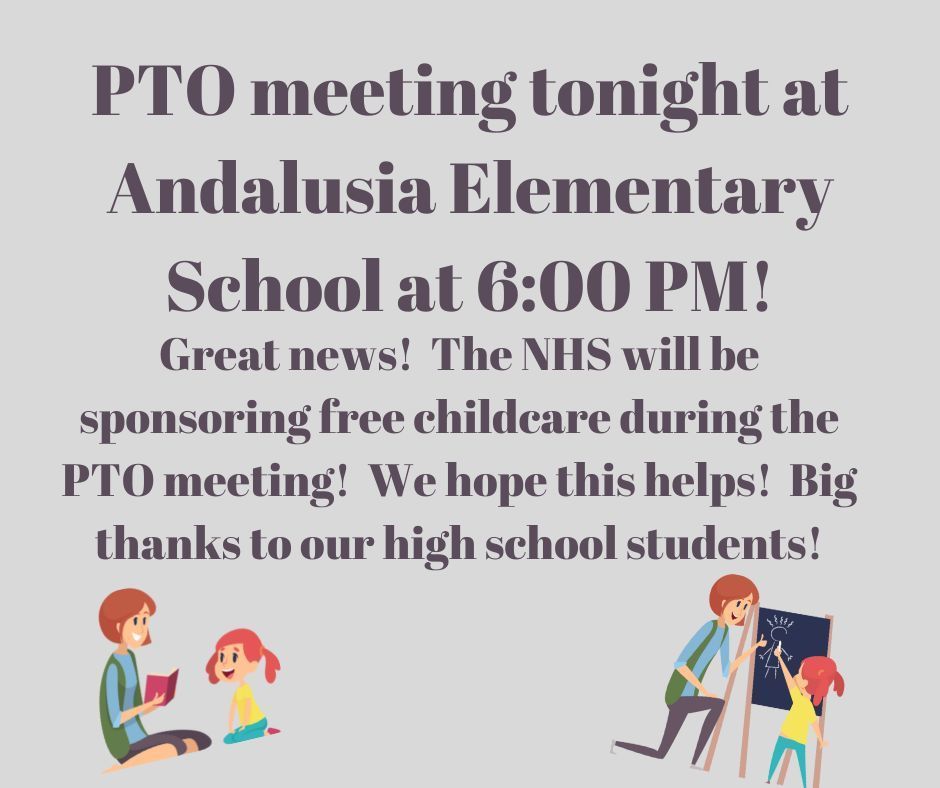 The PTO meets Monday the 26th, 2022 at 6:00 pm at Andalusia Elementary School!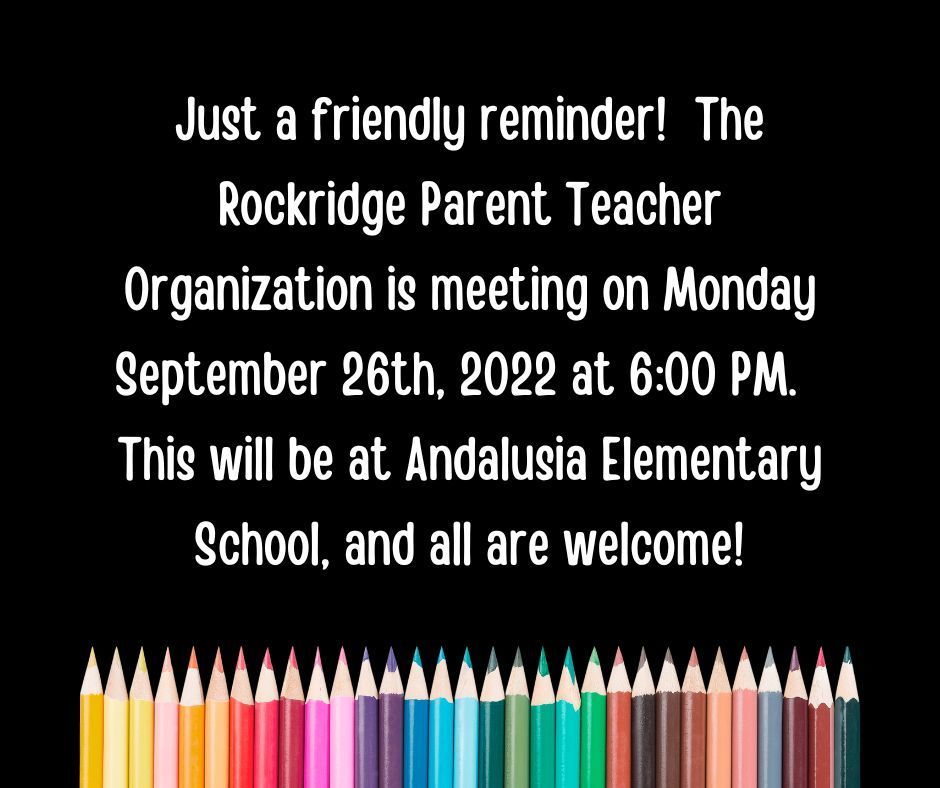 Fall is here! We have a lot to share this week, so please take a moment to check out our weekly family newsletter!
https://5il.co/1ifxd
Please see the attached job listing for Andalusia Elementary School.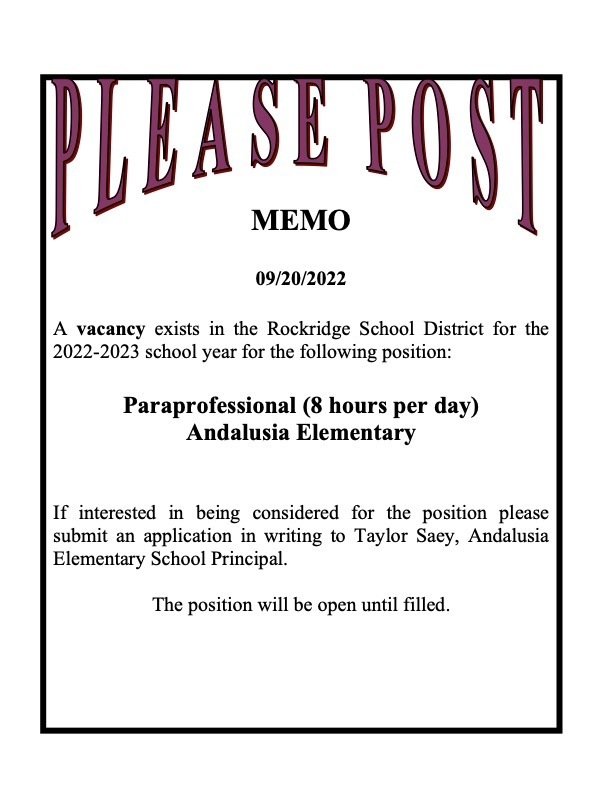 Friendly reminder to send our AES students with their best smile Wednesday!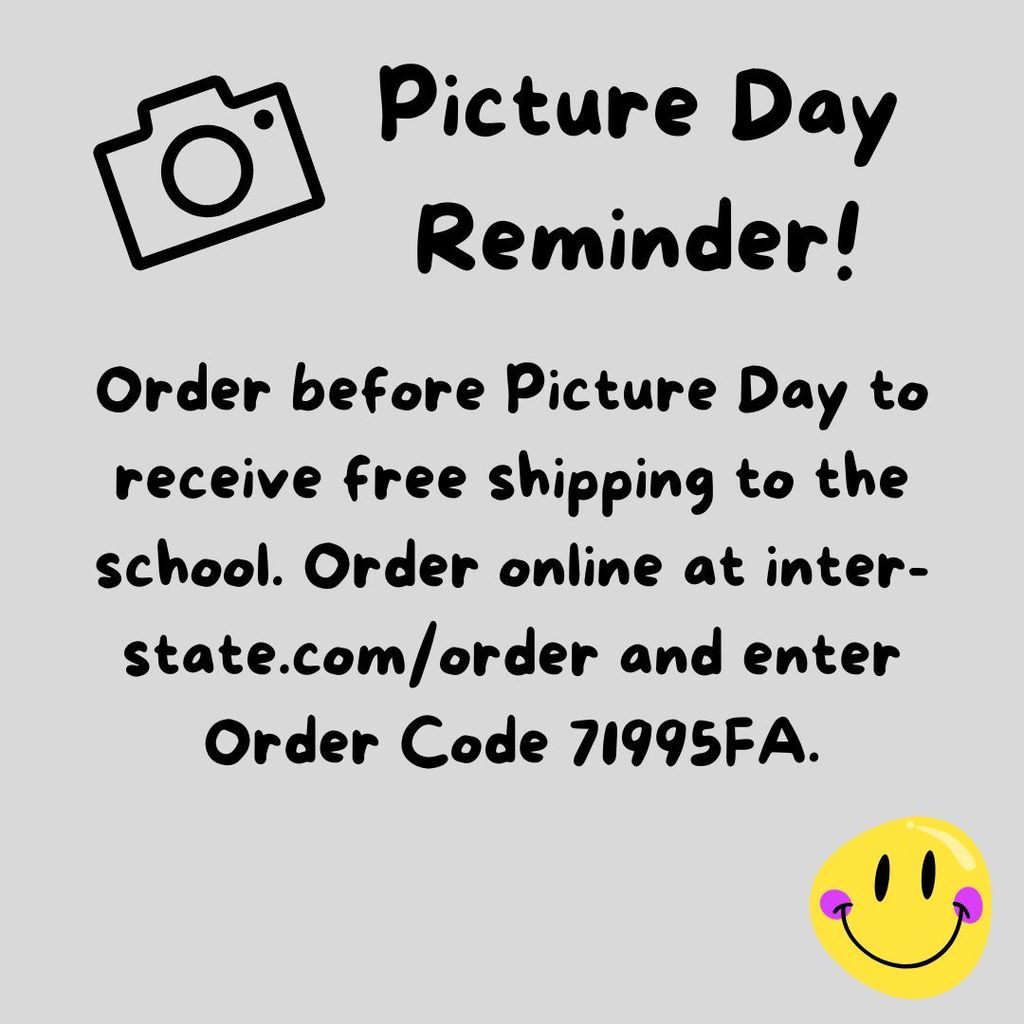 The PTO is putting together t-shirts for homecoming! It is a quick turnaround with forms and payment due Monday. The forms will come home today. Thanks!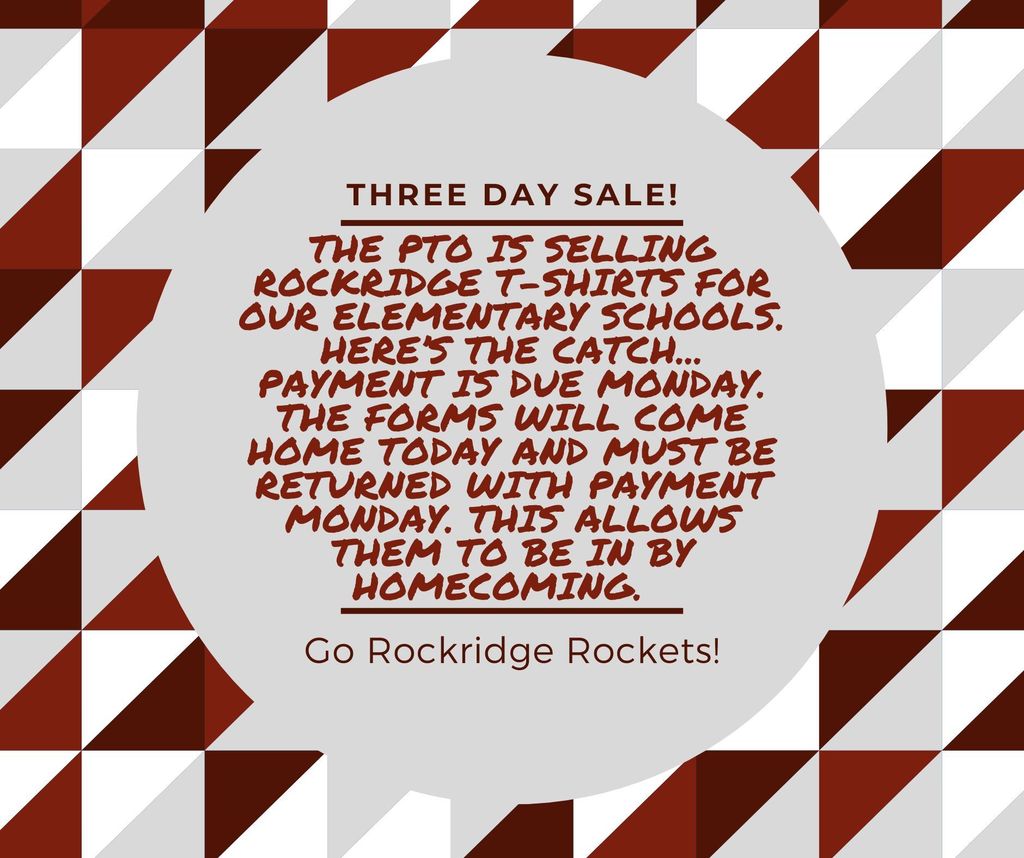 September 14, 2022 The District was informed by the Illinois Department of Transportation they will begin milling the three entrances on the North side of the Jr/Sr High School later today. Please use caution when entering and exiting the complex today and tomorrow.
Please join our Rockridge Elementary School PTO to support the Rockridge Rockets at the Homecoming parade! Please reach out to Chelsea Kuster for questions at 309-203-8949.

Last call to order Homecoming T-Shirts! All orders must be placed ONLINE by 11:59 pm on Sept 15th. Click the link for info:
https://bit.ly/3cARHtL

Here is our weekly parent newsletter. Thank you for sharing your students with us this week, and we hope you have a great weekend!
https://5il.co/1hqfp
Andalusia Elementary School is looking for a part-time recess monitor!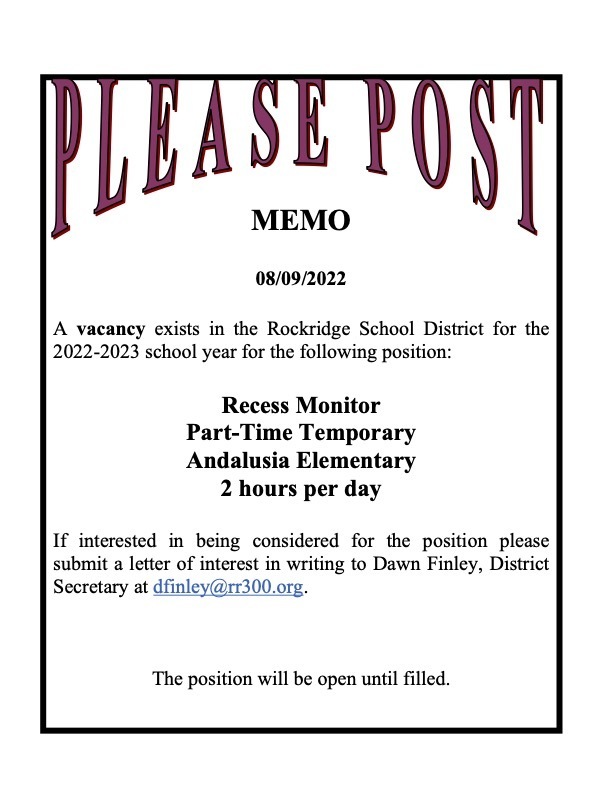 Here is our weekly family newsletter! We wish you all a safe and enjoyable weekend!
https://5il.co/1hgn6
The Rockridge Elementary Schools would like to introduce our PTO Board! We look forward to this partnership! Please know any parents and/or guardians are welcome to join the meetings and participate in activities. Thank you for all who participate!