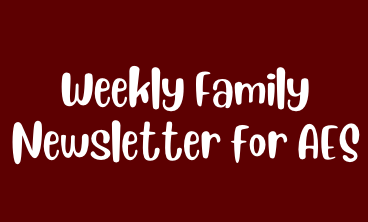 Andalusia is looking for new team members for the 2023-2024 school year! Please reach out if you are interested and share if you know someone who may be interested! We look forward to hearing from you!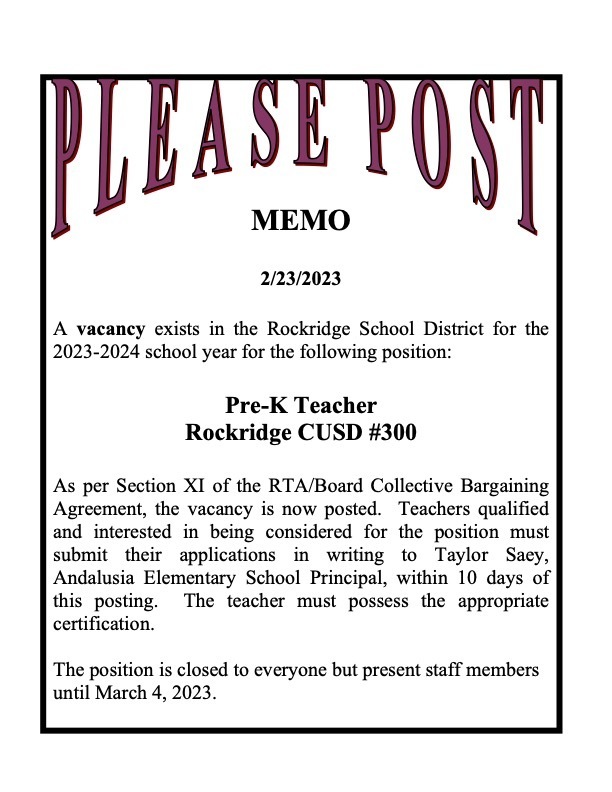 Andalusia has a lunch menu change for March 28th!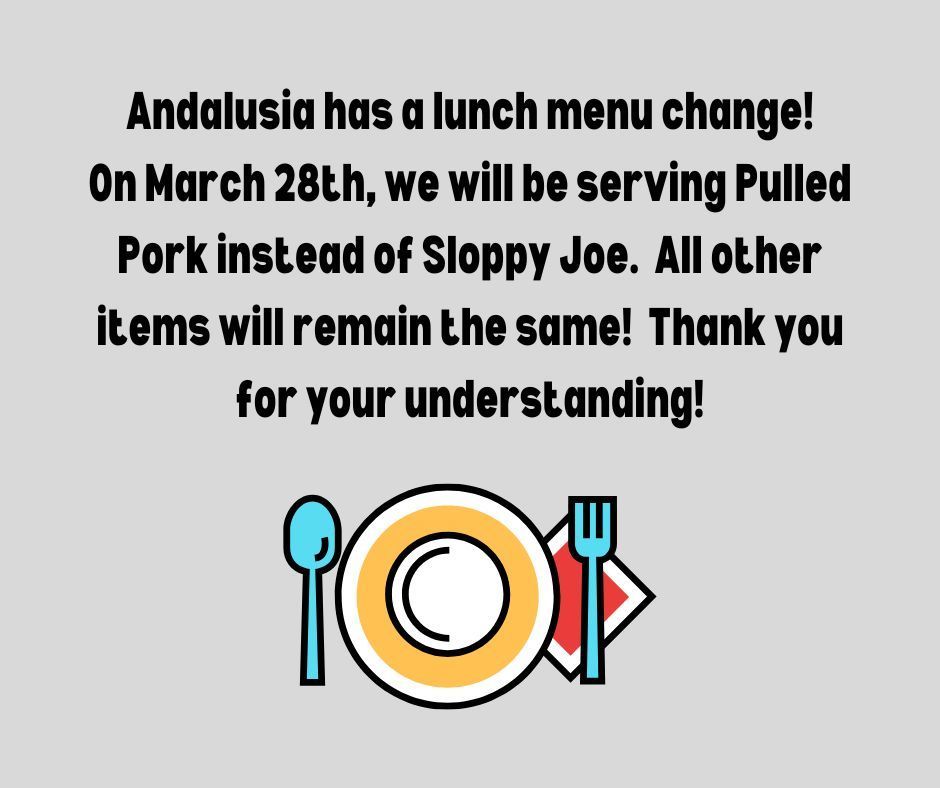 Fifth grade will be selling SMENS after break! Just a friendly reminder for students who are interested!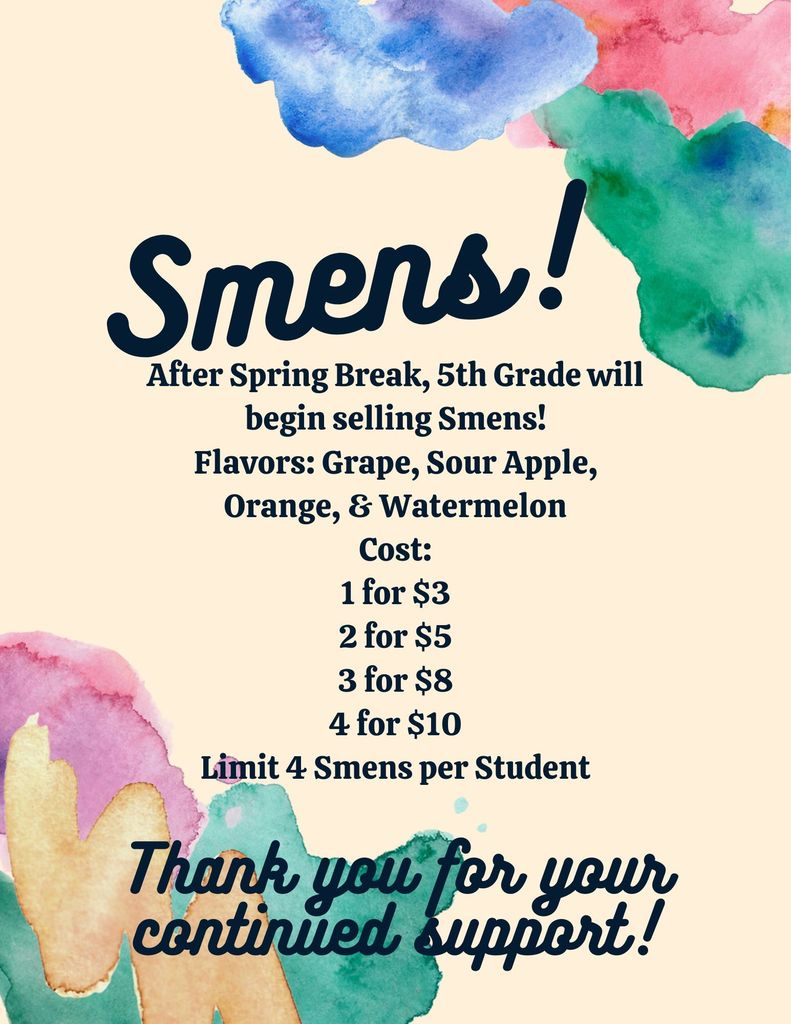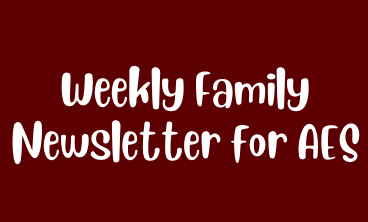 As the community looks forward to the Spring approaching and the Summer ahead, the Rockridge area baseball/softball registrations have opened up. We encourage all families with children interested in playing softball or baseball to sign up. Deadline is March 12th. Late registrations will be placed on a waiting list and may not be placed on a team. If they are placed on team, a late registration fee will be assessed. Please visit:
www.rockridgeball.com
If you have participated last year, then you will have received an email with registration information and directions. If this is your first year with the program, thank you for joining the fun, and you can use the website to register (
www.rockridgeball.com
). One thing to consider as you sign up your players, we will need coaches for all the teams. This takes the community and volunteers to help make this a fun and successful summer. While registering, there is a place to indicate you'd like to Coach or help coach a team. As a coach, you can chose available practice times and help guide the youth to being great people, as well as good ball players. Age Divisions: Girls: T Ball – 6U(4-6 years old), J Ball – 9U (7-9 years old), Minors – 11U, Juniors – 14U and Seniors – 18U. Graduating 19 year old seniors may also play. Girls may play up. Boys: T Ball (4-6 years old), D Ball (7-8 years old), C Ball (9-10 years old), B Ball (11-13 years old), A Ball (14-15 years old), and Seniors (18U). Boys may play up as well. Pricing: T Ball and J Ball - $60 (incl. registration/processing fees & full uniform) Senior boys and Senior Girls - $60 (incl. registration/processing fees & shirt/hat) All Others - $90 (incl. registration/processing fees & full uniform (pants/shorts, shirts, hat)) If there are any questions, please email
rockridgeballassociation@gmail.com
and we will get back to you. Click here for more information:
http://bit.ly/3jPmdE3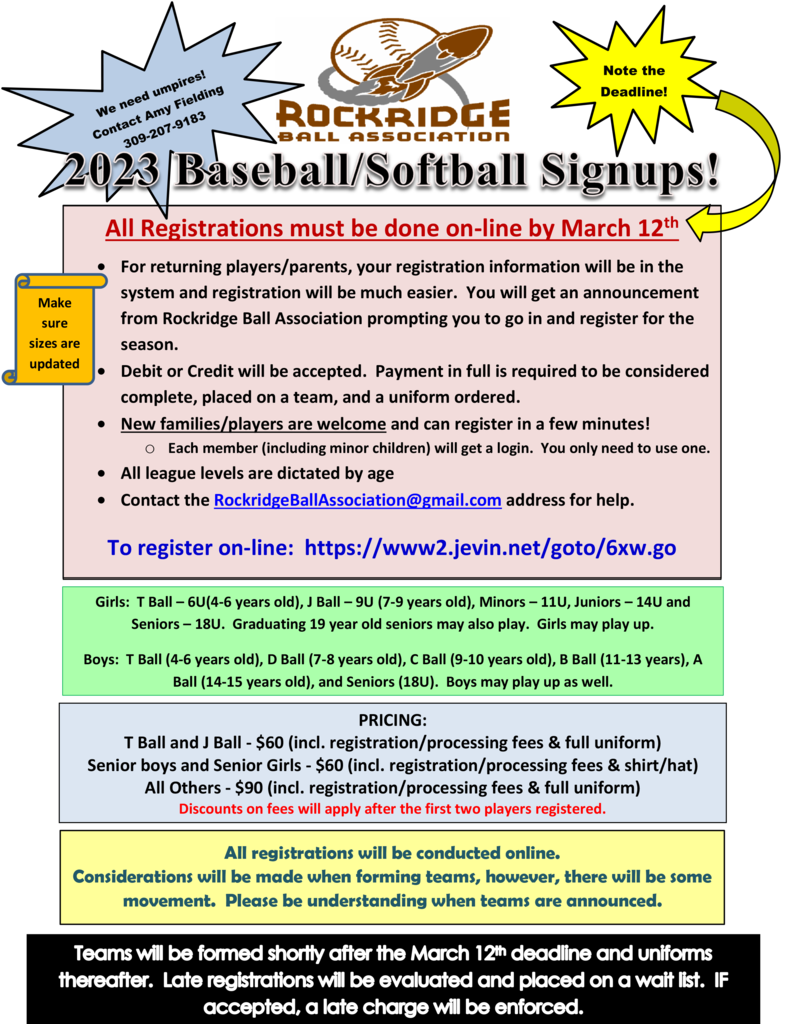 The Rockridge Boosters have set up an online store for State Basketball Shirts. The store closes at 11:59 pm on March 12th. rhsstatequalifiers23.itemorder.com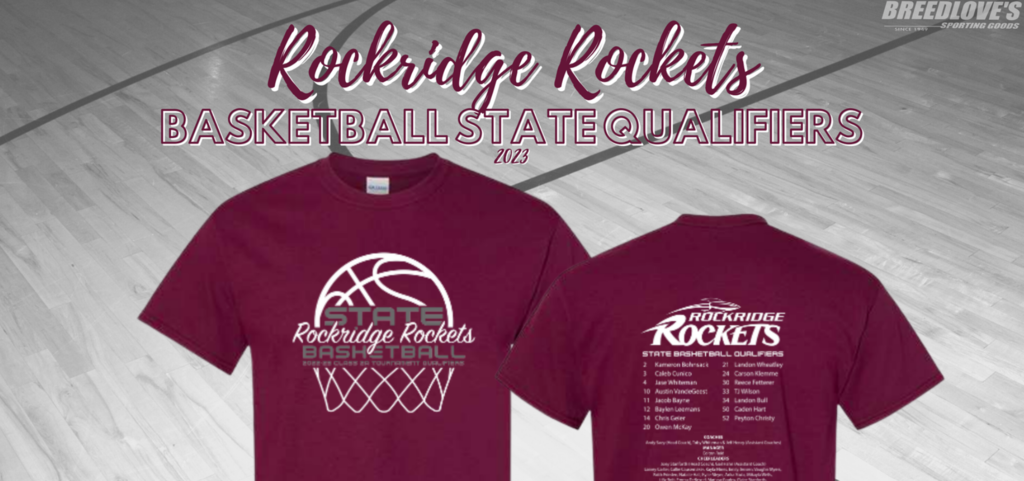 School will not be in session on Thursday, March 9, 2023. We hope you will be able to cheer on the Rockets either in-person, via radio, or on television. Congratulations to the Boys' Basketball team and the coaching staff. GO ROCKETS!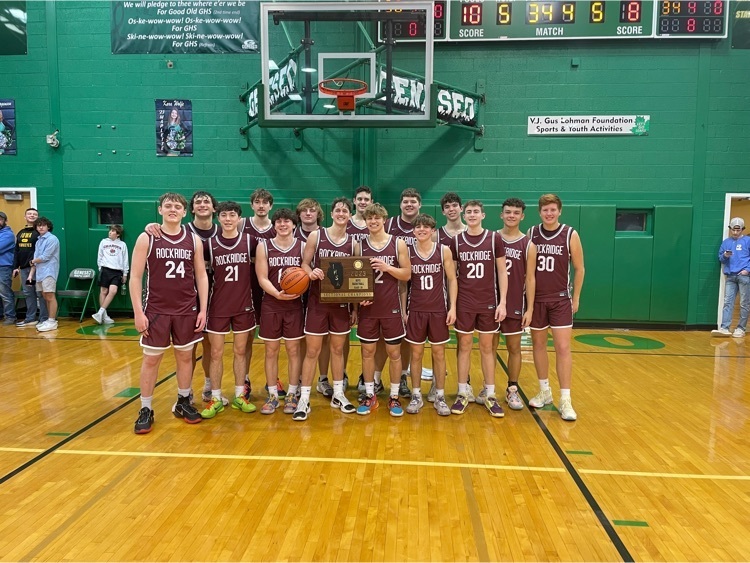 Orion Sectional Final Game Information Tomorrow night's Sectional Championship Game has been moved from Orion High School to Geneseo High School. Game time will remain at 7:00 pm with doors opening at 6:00 pm. Go Fan tickets previously purchased will remain valid for the game. No new purchases will be required for those who have already purchased tickets. Orion High School will be releasing additional tickets to be purchased via a GoFan link. This link will be public and will be active at 8:00 pm this evening (Thursday, March 2nd). Purchases will be first come, first served. To access these tickets, go to
https://gofan.co/app/school/IL16252
. Once again, a limited number of tickets will be available on a first come, first served basis at 8:00 pm. Attendance will be capped at 1700. At this time, no tickets will be available for purchase at the door. Seating for the game will be split down the middle of the gym. Princeton fans will sit on the east side of the gym and Rockridge fans will sit on the west side of the gym. There will be limited concessions available. Geneseo High School is located at: 700 N. State St. Geneseo, IL. 61254.
4th & 5th graders from Andalusia Elementary were fabulous audience members at the Quad City Symphony's performance of "The Orchestra Moves"!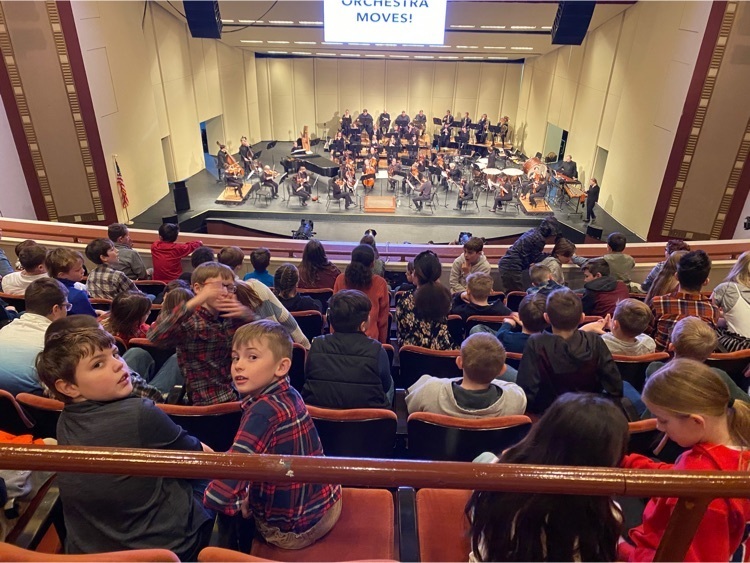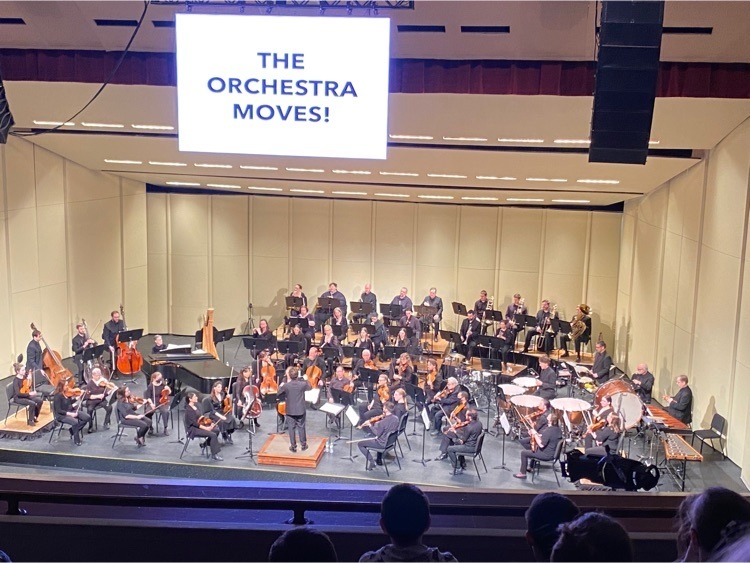 The ticket link for Friday's Sectional Championship game will be posted Thursday morning by 8 am. Tickets will be ONLINE ONLY for Friday's game.

Congratulations to the Rockridge Boys' Basketball Team on winning the IHSA Class 2A Regional Championship last Friday night! The Rockets have now advanced to the IHSA Sectional at Orion High School. They play Rock Falls on Wednesday, March 1st at 7:00 pm at Orion. Orion is limiting the number of tickets sold for the sectional games. As a result, ALL TICKETS MUST BE PURCHASED IN ADVANCE THROUGH THE GOFAN APP. Tickets are $7.00 online at this link:
https://bit.ly/3ZaNhwP
Online ticket sales for participating schools will close at 12:00 pm Wednesday. At that time, tickets will be released to the public for online ($7) and in-person purchase ($8 at the door). Rockridge students, parents, and community members are strongly encouraged to purchase their ticket online before 12:00 pm Wednesday. There is no guarantee that additional tickets will be available at the door. Doors will open for admission at 6:00 pm Wednesday. Rockridge fans will be seated on the right-hand side as they enter the gym – opposite the scorer's table & benches.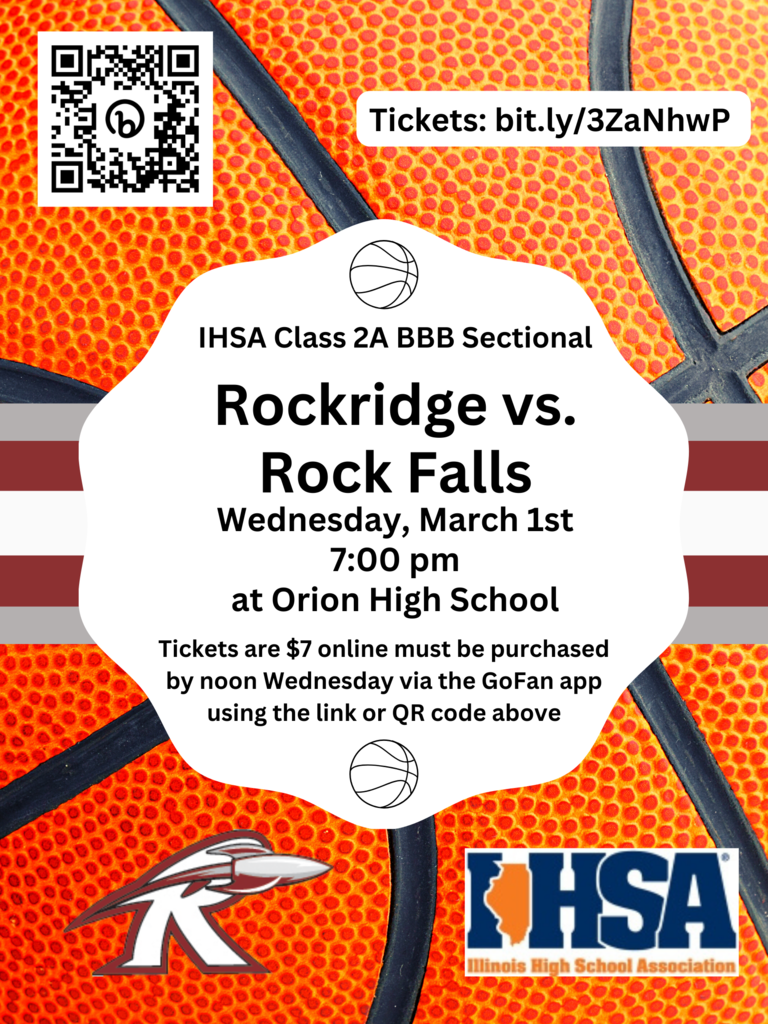 Fourth Grade is doing a Freezer Meal Fundraiser to raise money for their Field Trip to Springfield! Freezer Meal Sign-up Link to PDF:
https://5il.co/1pi2i
. Check it out!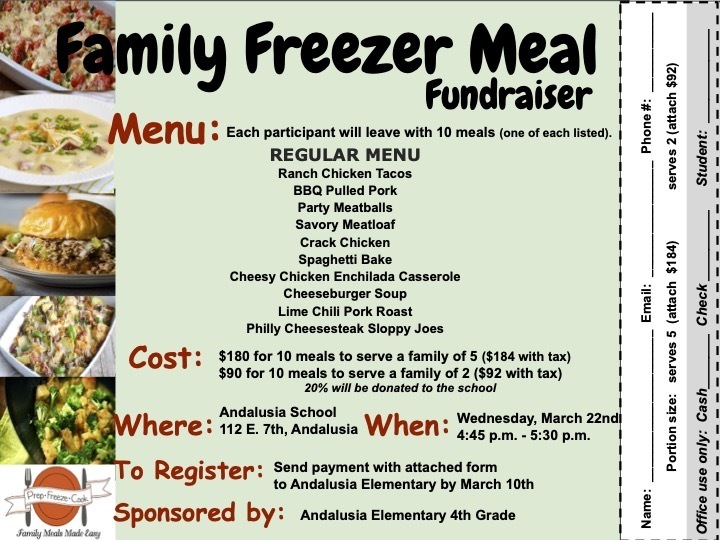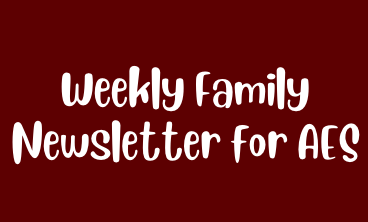 Rockridge Schools will be closed tomorrow, February 16, 2023.